**Please note that we are a bulk delivery company and we do not service, sell or fill propane tanks smaller than 50 gals.**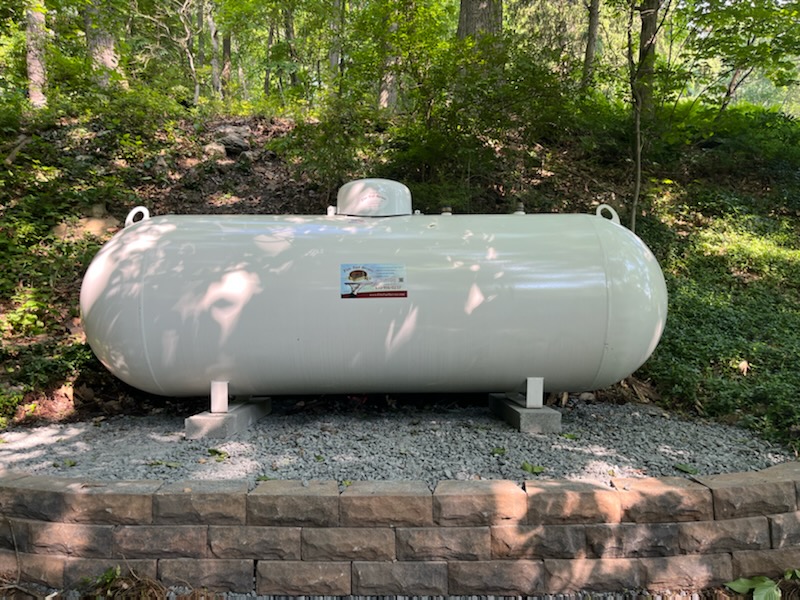 All of our propane is HD5 Grade Propane (90% pure propane). We install tanks, gas lines, heating systems, as well as provide propane delivery including AUTOMATIC delivery.
To get started with us, you must own your own tank or you can rent a tank from us. Get the details below.
Expand the sections below for details about our propane services
Owning your own propane tank has some pros and cons.
The Pros: You are in full control of buying propane from your supplier of choice.
The Cons: You are responsible for maintaining the tank, and keeping it painted. The biggest one is the upfront investment to buy your own tank is significantly more costly than renting a tank.
First, understand that there is no such thing as a free tank. The idea of a free tank may sound nice, but it is just a clever way to get you started. Don't fall for it. Look for a plan that is easy to understand and makes sense. If you don't own your tank, then renting a tank is the easiest and most affordable way to get started. Whether you need a big tank to heat your whole house or a small tank for a cooking stove or fireplace, we have competitive rental plans available for any tank size.
Our Advantage: Fair Pricing, No Gimmicks.
Most people SAVE an average of $300-$500 per year on propane when switching to us because we don't charge extra for the propane delivered to rental tanks. Instead, we charge a flat rental fee per year so you know exactly how much you're paying. Otherwise, you pay a higher price for propane to compensate for the tank rental. The annual rental fee is simple and our customers prefer this type of service. 
120 gals. tank (commonly used for small things such as a fireplace, cooking stove, clothes dryer, or similar)

250 gals. tank (commonly used for standby generators)

500 gals. tank (commonly used for home heating)

1,000 gals. tank (commonly used for home heating, farm grain dryers, large commercial buildings, or similar)
Call us for prices or to discuss the best option for your setup.
We also provide free estimates to install underground propane tanks or install brand-new tank/line setups.
Propane tanks can only be filled to 80% capacity. (ex. 120 gals. tank will only hold 100 gals. of propane.)

Propane expands and contracts according to the outdoor temperature.

120-gallon tanks may be set up right beside your home (with a few other requirements).

Larger tanks must be set at least 10 ft. or 25 ft. away from the house.

Our tanks are ASME certified, which means they are certified for life. (DOT tanks must be recertified.)

Our tanks have a dome lid with a gauge inside to read the tank level.

Propane is dangerous therefore you should always have a trained professional install a tank.

Safety is our #1 priority; our techs are trained to follow NFPA codes & requirements to ensure the safety of you, your family, and your home/business.
We care about safety and we do our best to make sure you and your family have peace of mind knowing that we follow NFPA codes and guidelines when installing propane gas lines or propane tanks. There are many safety concerns that we address when installing propane/gas equipment. 
These are just some of the things we do to protect you:
We follow the National Fire Protection Association (NFPA) code for installing propane/gas equipment.

We pressure test gas lines to make sure there are no leaks.

We use FlashShield pipe instead of CSST to reduce the risk of gas line failure.

We bond gas lines to safely remove static electricity to reduce the risk of gas line failures when lightning strikes.

We inject methanol into our propane to disperse moisture which helps to protect the regulator from freezing up.
Did you know?

All gas lines should have a safety leak check completed every 2 years.
Small leaks may be costing you money in lost propane and potential safety hazards. We have service
techs with experience and tools to check for leaks in less than 20 minutes.

All gas regulators should be replaced every 10 years.
Regulators make sure the pressure of the propane coming into the house is at safe pressure. Our techs
can check the age of the regulator(s) and replace them if necessary.

All underground tanks have anode bags to prevent corrosion and should be checked at least once
every two years.
We use a voltmeter to make sure the anode bags are still actively preventing the tank from corroding
and developing leaks.
We have the experience, tools, and fully insured, certified technicians, who can fix leaks, replace regulators and
anode bags safely if needed.
Just like your annual heater inspection, an annual propane checkup plan ensures that your propane tank(s)
and lines get checked and small problems get discovered and fixed before they become big problems.
For your PEACE OF MIND, schedule your safety check today! Call us at 610-916-0237